Educational and Perceptual Testing
Evaluating Academic Aptitude in All Areas of Education
What does your child need in order to achieve academic success? Is he/she being challenged, overwhelmed, or properly placed? What objectives do you need to work on? How has learning during COVID 19 effected your child's academic standing? Is she/he performing on grade level?
Finding the right educational setting may be a difficult decision. You may be asking yourself whether your child is getting what they need from the school system, or whether home schooling or a private school would be a better option. Perhaps a different type of reading program or a different approach to certain math skills is needed. Maybe it would be beneficial to have a tutor working on particular core skills that are presumed to be mastered at your child's grade level. It may also be possible that your child knows certain skills, but just needs extra response time or that a perceptual problem is impeding your child from reading the print. The first step is to find your child's specific needs. This is where we can help you.
At Just Mirjam, your children's academic performance is boosted by identifying the areas that are in need of improvement. With educational assessment, we test for reading comprehension and decoding, math calculation and problem solving, and other major academic areas. With a wealth of experience and strong familiarity with various school systems and learning disabilities, Just Mirjam's results can help you better understand your child. Our thorough reports and consultation can help you set up goals for a tutor or home-schooling, supply information for a teacher or school team, or aid you in deciding what next steps need to be taken to ensure the best program for your child.
We will come to your home in either Anne Arundel, Frederick, or Howard County or within 30 miles of Severna Park. For a slightly lower cost, you can come to our home base in Severna Park. Educational testing can be done virtually.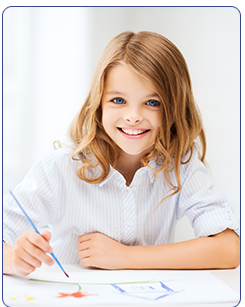 Every child's situation is unique. For a free personal consultation to discuss your child's needs, please call (410) 699-6799 or contact me at info@justmirjam.com, or use the contact form at the bottom of this page.
About Just Mirjam
letter by Mirjam Spaar
Based in Severna Park, Maryland, Just Mirjam specializes in educational assessment services. Parents who need more information about how their children are performing compared to their peers use my academic testing services. Irlen Testing, which provides an insight as to how a child perceptually sees and comprehends the written word, is also provided.
With 40 years of experience in test administration, I decided to branch out on my own. I wanted a company that would work towards assisting children in all aspects of learning and tailor methods to identify problem areas. I wanted to give parents and caretakers an avenue in which they could receive a thorough, yet impartial assessment report, to be used as a tool to help them understand their child's learning process.
At Just Mirjam, your child is the client. We can help you make sound educational decisions and give recommendations that are appropriate for your child's specific needs. If you have any concerns about your child's academic progress, do not hesitate to contact me. Please call or fill in the contact form to set up an appointment.

Thank you for your interest. For questions or comments, please use the information listed here. We look forward to hearing from you soon.
Phone Email
(443) 699-6799 info@justmirjam.com
Hours of Operation
Monday - Saturday by appointment onlyProudly Serving
Customers in Anne Arundel, Frederick, and Howard Counties and locations within 30 miles of Severna Park; virtual testing can be done anywhere in the USA
Every child's situation is unique. For a free personal consultation to discuss your child's needs, please call (443) 699-6799, contact us at info@justmirjam.com. or use the contact form at the bottom of the page.
Virtual Testing Now Available !V
Achieving Greater Academic Success

Serving Anne Arundel, Frederick, and Howard Counties